Sr. Paralegal I/Client Service Manager
Ms. Reeta Roy is an established and motivated bilingual (English/Hindi/?Bengali) professional, armed with over 15 years of experience in providing effectual legal administrative support to Attorneys in medium and large corporate firms. She possesses superior organizational and interpersonal skills as well as the ability to communicate with a diverse group of Attorneys, staff, and clients. She is adept at managing records and confidential information and able to assist Attorneys and clients in the proper filing of legal cases while maintaining compliance with federal regulations. With an educational background in Political Science and Philosophy, Ms. Roy has had an interest in Law from early on. Working closely with Attorneys since early in her career, Ms. Roy's skillset aids in ensuring that clients are provided with immaculate service and respect. Ms. Roy looks forward to continuing to help clients in this area of work and growing as a professional as her career moves forward.
Sr. Paralegal II
Kitti Markan is an experienced Business Immigration Paralegal, has strong procedural knowledge of immigrant and non-immigrant petitions and applications. Managed caseload with a large degree of independence. Experienced handling: H-1B, L-1A, L-1B, E-3, E-2, TN, B-1, B-2, PERM and RFE petitions. Performed intake, assisted with review, developed strategy and prioritize cases,  assisted with drafting and filing of Petitions and Applications for various types of nonimmigrant and immigrant visas, RFE's and PERM Audit responses.  Communicated regularly with clients regarding procedural and case processing issues. She has handled large-volume cases, work efficiently, have excellent attention to detail, and work well in a team-oriented fast-paced environment. Master degree in Economics from Panjab University, India.
Junior Paralegal III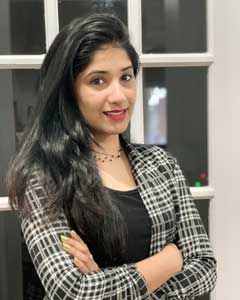 Nayana Gigy is a passionate and highly successful person with more than 6 years of experience in immigration and administrative activities. She can fluently speak two languages (English/ Malayalam) and Highly organized Immigration junior Paralegal with the ability to manage multiple projects and meet deadlines. Strong employee ethics in all programs, combined with a dedication to excellence. Exemplary skills in communication and presentation. Immigrant visa experience, non-immigrant visas, citizenship. She has expertise in business management and actively seeks a substantive and responsible role that challenges skills and promotes outstanding communication and management skills in the office. Nayana Gigy looks forward to continuing to assist clients in this field of work as her career progresses and evolves as a professional.